Plumbing Marketing Guide: Everything You Need to Know to Be Successful
In any regional market, there are numerous plumbing contractors competing for visibility on Google, Facebook, Yelp, and other websites where people are looking for local plumbing services. Standing out among the competition can be a challenge, especially if you're a small, local company up against large, national competitors with substantial marketing budgets and dedicated marketing professionals at their disposal.
If you're struggling with marketing your plumbing company, there are many strategies you can employ to grow your visibility, get more leads, and book more jobs. This guide offers a comprehensive look at plumbing marketing, so you can stand out as a trusted professional in your community.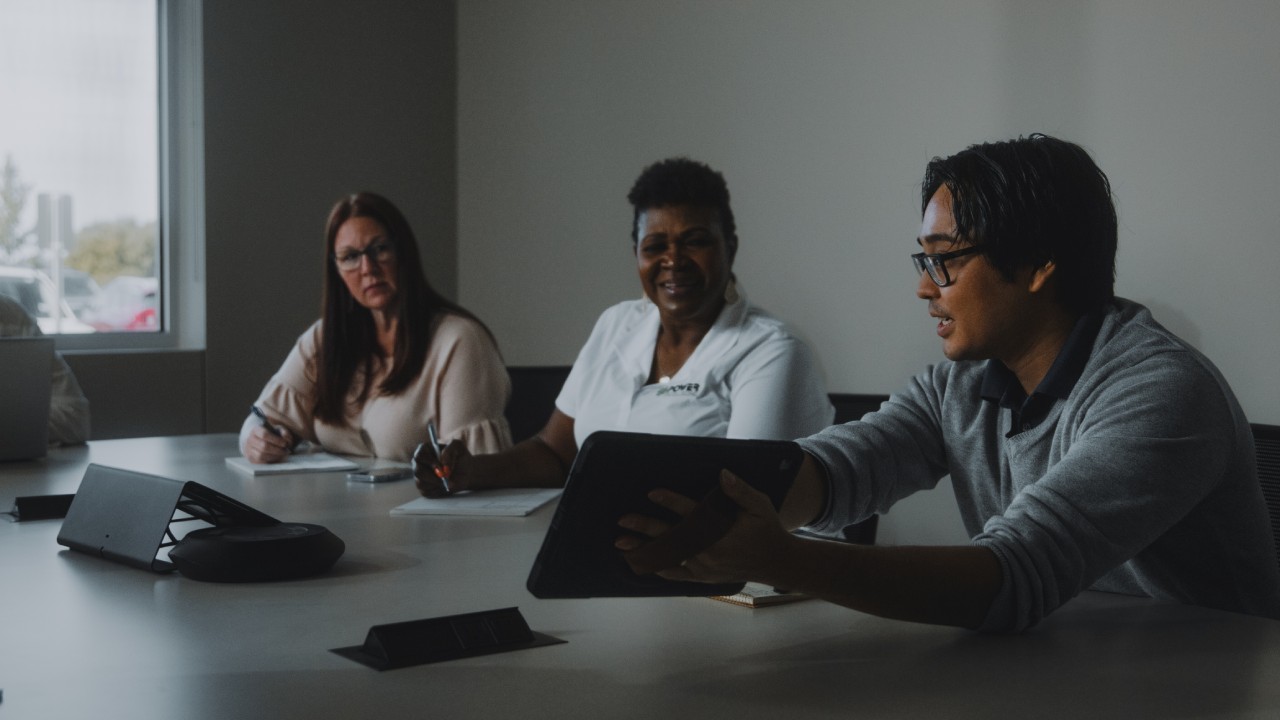 How Do I Get More Plumbing Clients?
If you're thinking about marketing, you're probably asking yourself this question. You can get more plumbing clients by not only leveraging the right marketing strategies, but also by targeting the right audience.
For plumbers, location is key for audience targeting, but there's more to think about. For example, if your plumbing company primarily serves residential customers, you'll want to target homeowners and household decision makers. That usually means married adults over 30, typically women.
Market research will be necessary to narrow down the exact audience you should be targeting. Once you do that, you can develop specific customer personas so you can speak directly to those most likely to need your services.
You may need different types of marketing campaigns, such as an awareness campaign designed to make sure people in your community are aware of your business and a lead generation campaign designed to drive sales among people actively seeking plumbing services. The following strategies can help you focus on the right audience and increase your business's footprint in the local market.
Cultivate a Social Media Following
Social media is one of the best tools businesses can use to engage with their target audiences. But before you can focus on engagement, you need to build up a following. Paid social media ads can help you increase brand awareness and gain more followers, which will then allow you to optimize your organic social media presence.
One of the great things about all social media platforms is that they allow you to speak directly to your audience and have real conversations with current and future clients. HubSpot Marketing expert Kayla Carmichael suggests reaching out to your audience directly to learn what they want to see on your social media profiles:
Ask your followers what they want to see and use tools like Instagram Stories and replies to get their response for how/what you're doing. Whatever engagement you get, positive or negative, can influence how you attract more audience members. (1)
Send Targeted Email Marketing Campaigns
When users engage with your website or social media pages, provide forms for them to leave their contact info, so they can keep in touch with your business. With this contact information, you can send out targeted email marketing campaigns. You can create a campaign specifically targeted to people who have visited your website but have not booked an appointment. Your emails might include an offer like "10% off your first plumbing repair" or "free drain inspection with your first appointment."
You can also use email marketing to stay top of mind with previous customers, turning one-time clients into loyal patrons. Customize your messaging for different audiences, so you can send relevant emails that help drive up conversions.
Leverage Direct Mail Marketing in Your Service Area
While digital tools dominate the marketing landscape, there is still room for traditional advertising tactics, such as direct mail marketing. Direct mail, like promotional postcards, can cut through some of the noise of online marketing and make your plumbing company a household name in your area.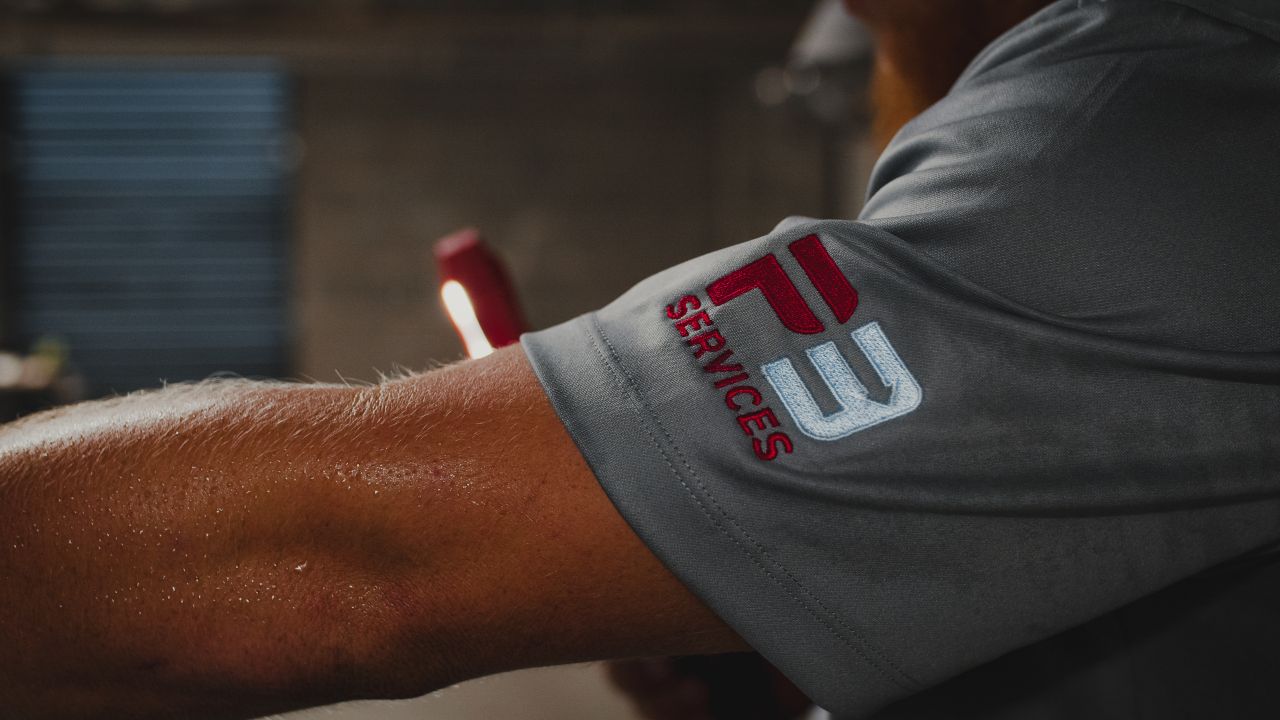 Create a Marketing Plan and Brand Identity
An essential step towards marketing success is building a marketing plan for your plumbing business. Because your top priority is providing expert plumbing services, you may reach out to a marketing agency to do the legwork in implementing your marketing strategy. But it's still important to understand which marketing services your business will benefit from and how they work. The foundation of your marketing plan will be your brand identity.
Brand identity is much more than just a logo. HubSpot defines brand identity as the personality of your business, which is showcased through all visual branding elements, including your logo, website, uniforms, and graphic design elements in your advertising materials. (2) Additionally, your brand identity should reflect your company's voice, values, and mission — such as a tagline that emphasizes your commitment to quality service and fair pricing.
As you develop your brand identity, you can put all elements of your brand — including fonts, colors, logos and symbols, and images — together to create a style guide that will serve as the basis for all your future marketing efforts. This will ensure every marketing message you put out into the world accurately reflects what your business is all about and builds trust within your community.
Develop a Marketing Budget
The first step to take is to determine your marketing budget. You should consider how much you're currently spending on marketing, how well your efforts are working, and what ROI you're seeing from your current investment. If you're not easily able to assess the ROI of your existing marketing strategies, this is a clear sign you need to reshape your efforts and implement the right tracking tools so you can see where your marketing dollars are going.
If you're starting from zero with your marketing efforts, you'll want to draft a budget and create a list of priorities. Your website will likely take precedent, as it will be the centerpiece for all your other digital marketing efforts. According to Salesforce, service providers — such as plumbers — spend about 15% of their revenue on marketing. (3)
Your budget may vary depending on the age of your business, the competition in your local market, and the total budget you have available. Doing a little research into local competitors' ad spend can help you set a reasonable budget that will work for your plumbing company.
Optimize Your Website
In an era when nearly every problem can be solved with a simple Google search, it's no longer optional to have an online presence for your plumbing business, even if you've been part of your local community for decades.
Your website is at the center of your digital presence, so it should serve as a sort of virtual storefront for your business. When potential clients visit your website, they should be able to quickly identify what services you offer (residential, commercial, new construction, bathroom renovations, etc.), and they should see what sets your business apart. That means that your website needs to be packed with high-quality content that showcases your services, industry expertise, and commitment to customer service.
Along with written content, your website should include plenty of high-quality images (preferably real images from your business rather than stock photos). Including video content can give you an even greater advantage for keeping users engaged and interacting with your site.
But content is only half the battle. Your website needs to include the right technical features to rank well on Google, so it's more likely to get seen in search results. Without that visibility, your site will fail to attract the necessary traffic to fill up your appointment books.
Make Your Website Mobile Friendly
Google processes more than 8.5 billion searches per day and 63% of those originate from mobile devices. (4) Your website should be designed for a great browsing experience on smaller screens. Mobile-first web design ensures that pages on your site display correctly and are easy to navigate on a smartphone or tablet.
Additionally, it's important to recognize that most mobile searches are simple, location-based queries. In other words, the exact type of search that someone would perform to find a local plumber is likely to happen on a mobile device.
Optimize Your Plumbing Website for Search Engines
Google takes many things into account when ranking pages in search results, which means optimizing your website can be a complicated process. In general, Google favors websites that are likely to provide a great user experience and accurate, helpful information related to search queries (also known as keywords). Fast loading times, image alt text, unique page titles, and internal linking on each page can all boost your search ranking. (5)
Another thing that can help you rank on Google is to make regular updates to your website, which is where having a blog can come in handy. Blog posts allow you to pack more relevant keywords into your website, showcase your industry expertise, provide answers to common customer questions, and keep your site fresh and relevant.
One important thing to remember about search engine optimization (SEO) is that results don't happen overnight. It can take a few months for Google to start ranking your pages, so you'll need to implement other marketing strategies (like social media marketing, paid ads, and direct mail marketing) in the meantime to get your company's name out there.

Use Offsite Marketing Tools
Outside of your website, there are several tools that can help you further boost your visibility in local search results. These tools include your Google Business Profile and third-party directories.

Claim Your Google Business Profile
Google Business Profile (GBP), formerly known as Google My Business, is a free tool that allows you to claim your listing on Google Maps and other search results. With your GBP, you can ensure that your contact info, website, hours, and other important information are featured front and center when someone Googles your business.
According to Hootsuite, having an active Google Business Profile makes you more likely to get found in local search results. (6) Additionally, it allows you to track and respond to reviews of your business left by Google users.
Once you've claimed and optimized your GBP, you can keep it fresh with regular updates, images, and videos. Plus, you can use it to keep customers in the loop when you have holiday hours, special promotions, local events, and more.

Get Listed in Industry Directories

When you search for "plumbers near me," many of the top search results will not be the websites of local plumbers, but rather local directory sites like HomeAdvisor, Angi, Yelp, Thumbtack, and others. Many of these sites allow businesses to claim listings for free and include info like their hours, website, address, phone number, and a brief overview of their company.
With active listings on these sites, you can slide into top local search results, even if your website isn't ranking yet. Directory listings also provide reputable backlinks to your website, which can further fuel your SEO efforts and improve your search rankings.

Run Google Ads
Another way to get seen in search results is by using Google Ads. These ads get the most prominent positions on search engine results pages, and they can get your business seen faster than with SEO alone. Google Ads can also let you run ads throughout the Google Display Network, so you can stay top of mind for customers as they browse other sites on the web.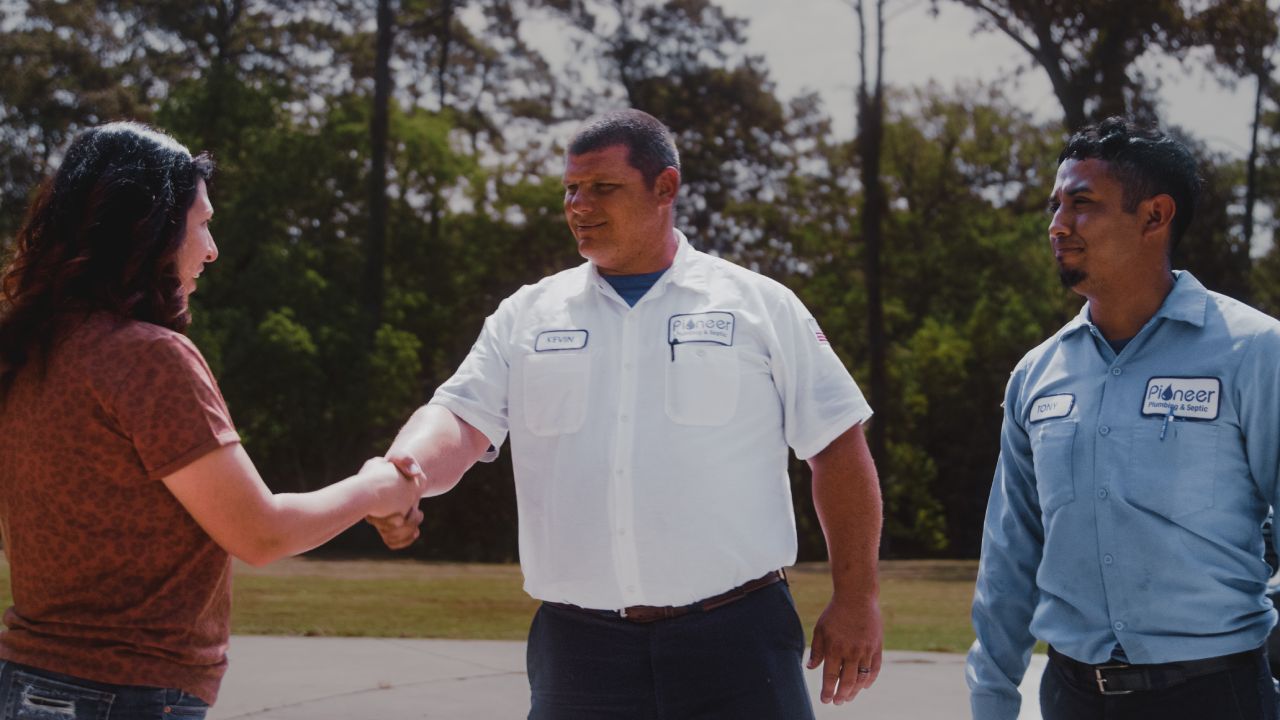 Deliver Awesome Customer Service from Start to Finish
As you begin to see more incoming clients from your marketing efforts, it's essential to follow through with exceptional customer service.
Word of mouth is still important for home service providers, as people want to know they are bringing trustworthy, capable professionals into their homes.
Part of your marketing strategy should include clear protocols for your technicians when it comes to professionalism and customer service. Go the extra mile with free estimates, cleanliness and sanitation measures, professional uniforms, and on-time service.

Ask Happy Customers to Leave Reviews of Your Plumbing Business on Google
If you prioritize great customer service, you'll have some leverage to ask your happy customers to leave reviews on Google and other third-party review sites. One survey found that customers don't trust companies with lower than 4-star ratings. (7) Additionally, they found that many consumers trust online reviews as much as a personal recommendation from a friend or family member.
Gathering reviews for your plumbing business is important and there are a few ways to do it. You might leave a business card with a QR code that customers can scan to take them to your preferred review site. Alternatively, you might send a follow-up email after each service call asking customers to provide feedback about your visit.
Along with seeking out new reviews, you should also respond to existing ones. When potential customers read online reviews, they're not just looking at what other customers have to say about your business. They're looking at how you respond to that feedback and value their opinions. Responding to all reviews, positive and negative, can show potential customers that you care about what they have to say and are fully invested in customer satisfaction.
To learn more about collecting and responding to customer reviews, read our blog on the topic.

Measure Results for Your Plumbing Marketing Strategy
Marketing is an investment, so it's important to know your ROI. But how do you know if your marketing strategy is delivering results? Co-founder of the scheduling and time-management app Calendar, John Hall, recommends looking to sales figures first:
Marketing may do more than drive sales, but sales numbers often determine its effectiveness. Linking the correct data and results to different campaigns can prove ROI and influence — or lack thereof. (8)
If you're not seeing an increase in new clients and customer loyalty, you may be missing the mark with your advertising efforts. However, there are still some other metrics to consider, including website visits and bounce rate, social media followers, email open rates, and ad impressions. You might also use call tracking software to get a look at how many calls you're receiving from paid ads and other digital campaigns.
Find New Opportunities for Growth with P3 Services
As you grow your business with the right marketing strategies, you may be seeking new opportunities to expand. As part of the P3 Services family, you'll gain access to resources that will help grow your brand, boost the professional development of your employees, and reach the next level of success.
We'll help you leverage your local reputation and give you access the financial and logistical support of a well-resourced parent company, so you can take your business to new heights. Contact us today to learn more about becoming a partner!
Kayla Carmichael, Target Audience: How to Find Yours [+ 5 Campaign Examples] https://blog.hubspot.com/marketing/target-audience

Kathryn Wheeler, Brand Identity: How to Develop a Unique & Memorable Brand in 2023 https://blog.hubspot.com/agency/develop-brand-identity

Salesforce, How to Create a Marketing Budget for a Small Business https://www.salesforce.com/resources/articles/how-to-create-marketing-budget/

Maryam Moshin, 10 GOOGLE SEARCH STATISTICS YOU NEED TO KNOW IN 2023 https://www.oberlo.com/blog/google-search-statistics

Chuck Price, 5 Proven Ways to Increase Your Google Rankings https://www.searchenginejournal.com/improve-google-rankings/246483/#close

Christina Newberry, How to Use Google My Business to Get More Customers in 2023 https://blog.hootsuite.com/google-my-business/

ReviewTrackers, Online Reviews Statistics and Trends: A 2022 Report by ReviewTrackers https://www.reviewtrackers.com/reports/online-reviews-survey/

John Hall, How to Measure The Success of Your Marketing Campaigns https://www.forbes.com/sites/johnhall/2022/12/25/how-to-measure-the-success-of-your-marketing-campaigns/