A Complete Guide to Growing Your Plumbing Business
Plumbing is a service that is constantly in demand. Even in hard economic conditions, people still need running water, clear drains, and functioning toilets. But that doesn't mean growing and operating a plumbing business is a walk in the park. In some markets, there may be plenty of competition, and you may also have difficulty retaining employees as the industry demand for qualified workers grows, leaving plumbing technicians with more opportunities to explore.
This definitive guide offers all the tips and tricks you'll need to grow your plumbing business and get set up for success.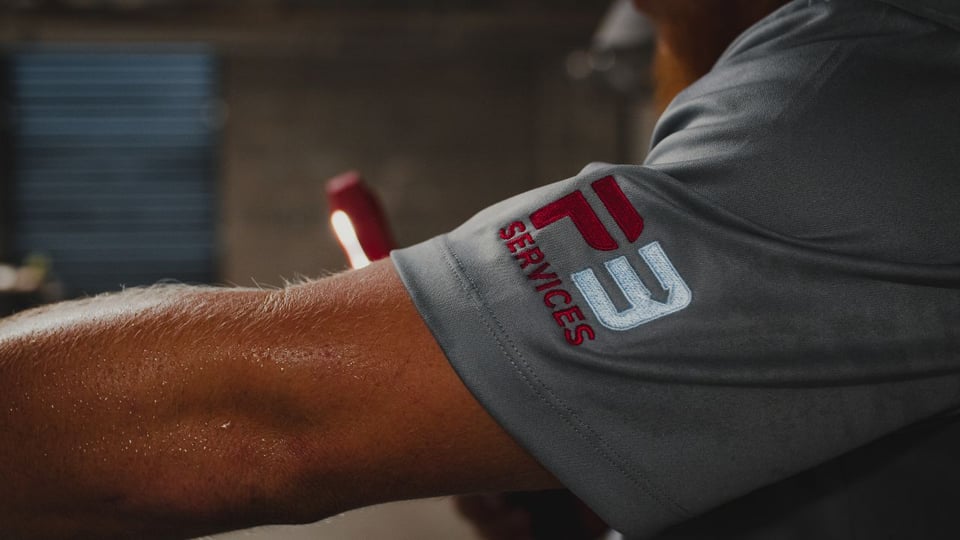 Develop a Full Plumbing Business Plan
While developing a business plan isn't required to start or grow a business, it certainly helps the process and increases your chances of success. (1) Your business plan may be necessary to secure funding from outside investors and can also serve as a guide to inform your growth and identify key opportunities in the industry.
Your business plan should include a description of your business with a full list of your services, a market analysis, a breakdown of your management structure, a definition of how your business will be incorporated, a profile of your target audience, a marketing plan, and a budget or financial plan.
Developing an effective plumbing business plan will require a good deal of research, including about your target audience and market.
Know Your Target Audience
Your ideal customer will influence every strategic decision you make for your business, from your marketing plan to your uniform design to your professional affiliations. Therefore, you should have a detailed breakdown of what your ideal customer looks like, including where they live, how old they are, how educated they are, what kind of technology they use, their marital status and family makeup, how they spend their free time, and what their values are.
The more you define your target audience, the better you'll be able to speak to their interests and values in your advertising.
Research Your Market: Where Is the Biggest Demand for Plumbers?
The biggest demand for plumbers in the US is in Texas and South Carolina. However, almost every metropolitan area has a relatively high demand for plumbing services. There is also a national spike in demand for specific plumbing technologies that help to reduce waste, save water, and improve efficiency. These include tankless water heaters, greywater recycling systems, smart pipe systems, and infrared leak detection. Investing in advanced technologies as you launch your business or seek new growth could help you gain an edge in your market over established competitors.
In general, the plumbing industry is growing. During the COVID-19 pandemic, plumbing was considered an essential industry, and following the pandemic, industry growth accelerated dramatically. Still, it's important to consider that plumbing is part of the construction industry, which is sensitive to economic downturns. While homeowners and commercial building owners will still require plumbing maintenance and repairs in all economic climates, new construction may take a hit.
Take a Hard Look at Your Finances
If you're just launching a plumbing business, you'll have numerous costs to consider in your startup budget. These include:
Fleet vehicles, tools, and equipment

Leasing a business space

Office supplies

Licensing fees

Insurance costs

Marketing costs

Employee onboarding and training costs
If you want to grow an existing business, you may not have quite as many new expenses, but you might need to invest in a larger space for your business, new plumbing technicians and employees, a bigger marketing budget, more insurance, and a larger fleet.
In either situation, it's critical to understand how much funding you have and what your operating costs are. Once you have an overview of your costs and funding, you can create a service agreement and pricing formula. It's important to get your pricing formula right the first time around, as consistency in pricing is incredibly valuable for your customers. While some pricing fluctuation is expected over time as economic conditions change, having to significantly alter your price structure in the first several months of operating your business can put a bad taste in your customers' mouths — especially if you are relying on word of mouth and positive online reviews to grow your business.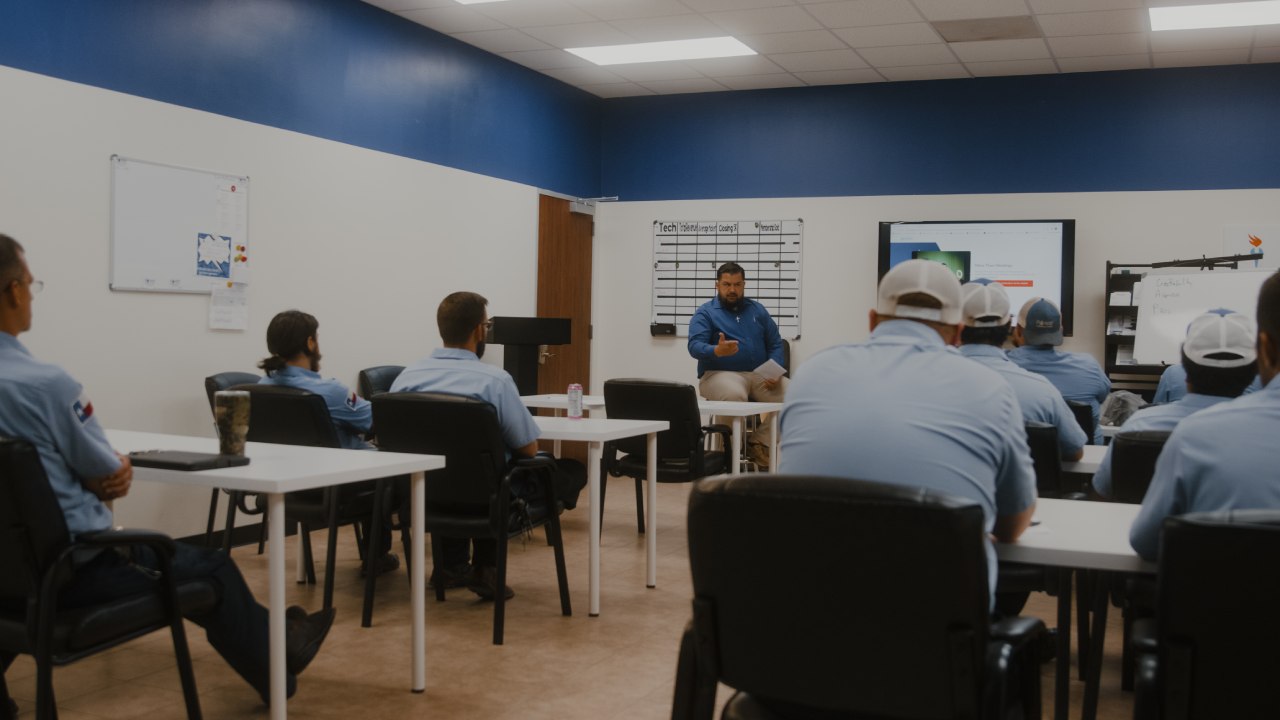 Hire & Train Qualified Plumbers
Having qualified, licensed plumbing technicians on staff is essential for any plumbing business. Unfortunately, staffing can present a major challenge in today's job market.
According to the U.S. Bureau of Labor Statistics, the job outlook for plumbers is expected to increase by 5% over the next decade as many qualified plumbers reach retirement age, without an adequate population of trained young professionals available to replace them. (2) Additionally, the industry's rigorous training requirements mean that it can take years for individuals to become licensed professionals, so finding qualified technicians can be an ongoing challenge.
Choose Between Subcontractors & Full-Time Employees
Because of the challenges that exist in acquiring plumbing technicians as full-time employees, you may choose to fill gaps by hiring subcontractors. Working with subcontractors can offer numerous benefits to your business, as the onboarding process may be much faster, and you do not have to worry about paying taxes, unemployment benefits, and other expenses like you would with full-time employees.
But subcontractors do tend to demand higher wages to cover these expenses on their end. Subcontractors may also reject jobs and set their own hours. Plus, they are not tied to any contracts for employment, so they may decide to move on at any time. You might be better off using subcontractors as a temporary solution to cover busier times in your schedule or fill gaps as you seek full-time employees to join your team.
Hiring full-time employees also allows you more say in how work is completed, including how technicians interact with customers. The IRS stipulates that someone is not an independent contractor if they perform services that can be controlled by an employer (what will be done and how it will be done). (3) Because your technicians are the customer-facing members of your staff who represent your business, you may want more control over how your services are performed, which is only possible if you use employees rather than independent contractors.
Build a Great Company Culture
With a shortage of qualified plumbers, employee retention is more important than ever. Offering competitive salaries is one key component for keeping employees happy, but company culture is also important.
Company culture is what makes employees feel valued and appreciated. According to the Harvard Business Review, company culture is largely defined by how employees interact with company leadership and how people within the organization respond to change. (4) Fostering a culture that emphasizes stability, support, and receptiveness to employees' needs can help you encourage your technicians to stick around longer and grow with your company.
Outsource Tasks That Are Not Customer Facing
Along with hiring plumbing technicians, you'll need to hire support staff to take care of the administrative tasks that help your business run, such as booking appointments and running payroll. Unfortunately, growing businesses don't always have the resources to hire full-time employees who can take on everything, so business owners are left spreading their office staff too thin or taking on too many of these tasks themselves.
Outsourcing to third-party organizations can be a budget-friendly solution. Anja Smith, a co-owner of a plumbing company in South Carolina, advises it:
"I recommend starting with things that are not customer-facing. Bookkeeping, marketing, email, and mail monitoring, data-entry. All these things — and more — can be outsourced easily.

It's cheaper and more comfortable than hiring a bunch of different employees (or looking for a unicorn). Figure out what the most important role is and hire for that job alone." (5)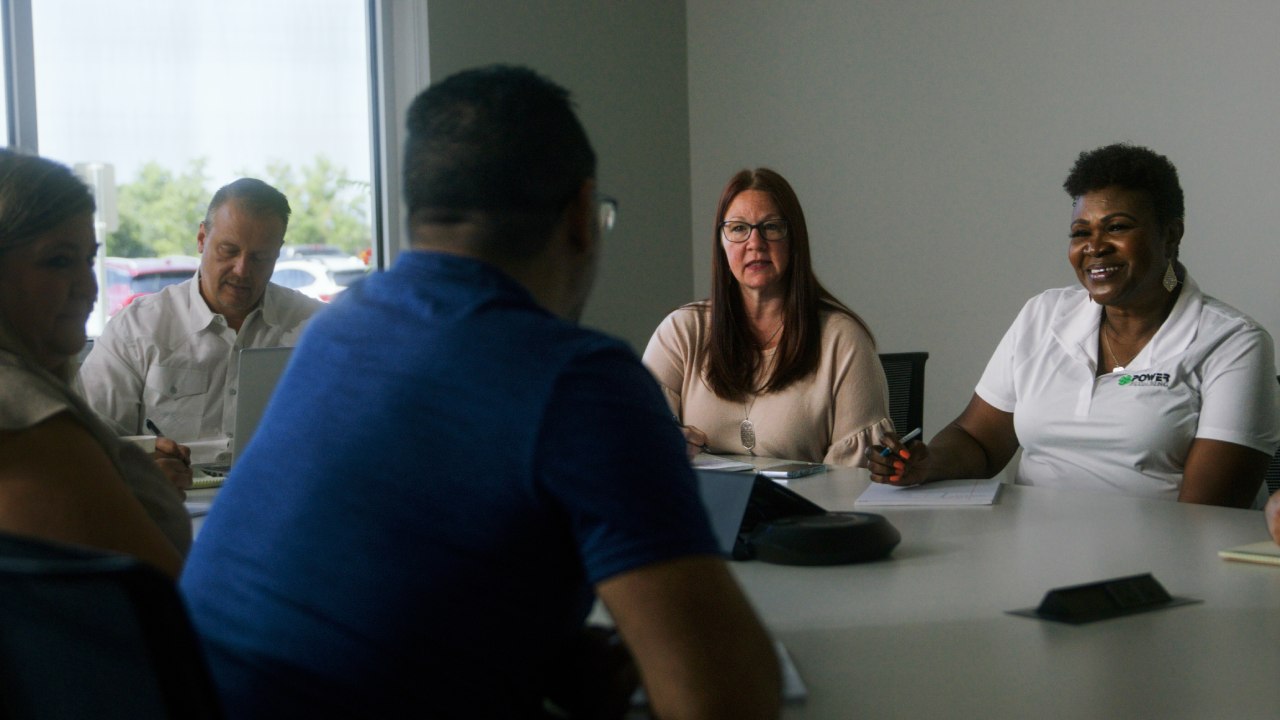 Ramp Up Your Digital Marketing Processes
Your plumbing business growth strategy will rely heavily on plumbing marketing, which means ramping up your digital marketing processes. While word of mouth and physical advertising used to be reliable methods of growing a plumbing business, plumbing companies today must use digital advertising tools to connect with their target audiences, build trust in their services, and get their appointment books filled.
If you have an existing business and you are trying to expand your footprint in your local market or enter a new market, you may already have some digital marketing processes in place. If you're starting a new business, you'll need to take some key steps to build your digital presence so customers become aware of your business.
Read our complete guide on how to market your plumbing business >>
Claim Your Google Business Profile Listing
Even if you aren't an expert at digital marketing, you're probably aware that getting found on Google is key for success. You must claim your Google Business Profile and optimize your listing. Your business page on Google is essentially a mini website that offers customers a glance at your services, current offers and promotions, business hours, contact info, and photos of your business. It's what people will see if they find your business via Google Maps or if your business is featured in the Local Pack of Google listings in search queries for terms like "local plumber" or "drain cleaning near me."
Having a Google Business Profile also enables you to get more customer reviews and respond to those reviews. It's free to claim your profile, but you might consider enlisting a marketing professional to optimize and manage your listing alongside your other digital marketing assets.
List Your Plumbing Business in Directories
If you're seeking another way to boost your performance in web searches and get more leads for your plumbing business, using online directories can be helpful. There are numerous online directories to explore, including some general business directories like Yelp, Yellow Pages, Super Pages, and Bing. There are also more industry-specific directories for home services like HomeAdvisor, Thumbtack, Angi, Houzz, and Porch, which focus exclusively on listings for professionals like plumbers, HVAC technicians, and general contractors.
Adding your business to these directories makes you more likely to be found by consumers who are actively seeking plumbing services and boosts your website authority with Google, so you're more likely to be found in general web searches as well.
Modernize Your Website
Your website should not only have a sleek appearance and great functionality, but it should also offer an abundance of content to answer your customers' questions. One important element to include in your website redesign is dedicated pages for every problem that you solve. That means offering an in-depth look at your services, as well as the issues customers might face that drive them to those services.
For example, you might have a page outlining different water heaters you repair and install, along with a page explaining common reasons why a home may be without hot water. Covering both bases allows you to capitalize on more search traffic from a wider range of queries.
Consistently Update Your Company Blog
Another way to improve your website and help you see more web traffic is by regularly updating your company's blog. Regular blog posts show that your website is actively updated, which is a feature that Google favors when ranking search results. Blog posts also offer an opportunity for you to incorporate keywords into your site content and show customers that your plumbing company is an expert in the industry.
Invest in a Customer Relationship Management Tool
Customer relationship management (CRM) is critical for plumbing companies because it helps convert leads into paying customers, boosts customer experience, promotes customer loyalty, and encourages recommendations to friends and family.
CRM platforms like ServiceTitan offer suites of tools to help you manage customer interactions, organize appointments, follow up with customers after service calls, send appointment reminders, and much more.
Along with managing your customer journeys, CRM software also lets you store data about your customers, which can benefit future marketing strategies, like email marketing and review management. According to HubSpot, another CRM platform, you can streamline your customer experience, boost your marketing, and grow your business by investing in CRM tools. (6)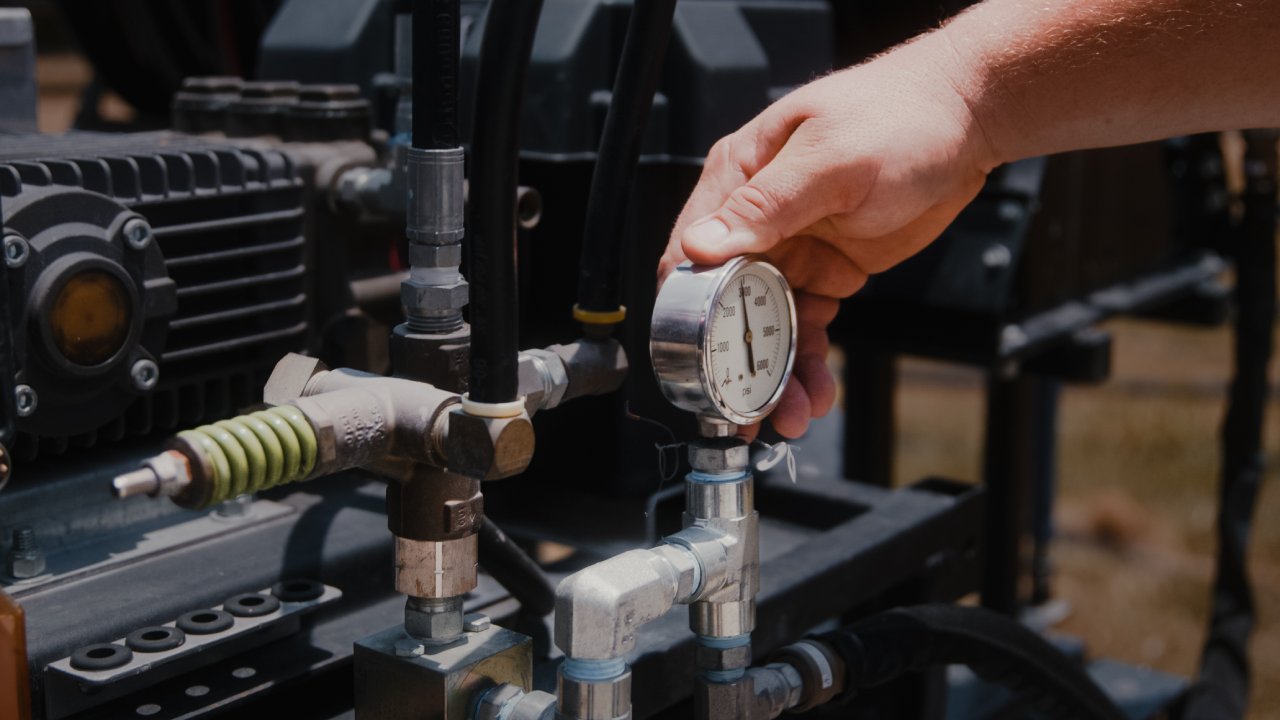 Decide How to Measure Your Success
There are many ways to measure the success of your plumbing company. Of course, your financial statements may be one of the first places you look for growth. But here is more to consider than your overall revenue. According to Forbes, it's important to look at your income statement, balance sheet, and cash flow statements to get a complete picture of your business's financial performance. (7)
As you grow your business, it is also important to keep an eye on the number of new customers you've acquired and how happy those customers are with your service. You can send out customer surveys or encourage customers to leave reviews on third party sites like Google and Yelp so you can identify areas where you're thriving, along with areas that could use improvement. Another great way to encourage customer input is through a referral program that offers existing clients incentives to recommend your business to their friends and family.
Finally, you should allow your employees to weigh in on your company's success as well. Check in with your staff and assess whether they are happy on the job, how they are handling their workloads, and if they have any ideas for improving the business. Involving your employees in defining your company's success will only help with the challenging goal of employee retention.
Partner With P3 Services to Continue Growing Your Business
If you have an established plumbing company that is outgrowing your current resources and needs a boost to reach that next level, joining the P3 Services family can help you access a wealth of resources and support to facilitate your continued growth. With P3 Services, you'll join a nationwide family of leading companies that have access to financial and logistical support for recruiting, marketing, and planning, while retaining your business's core identity and values.
Contact us today to learn more! >>
Desirae Odjick, How to Write the Perfect Business Plan in 9 Steps https://www.shopify.com/blog/business-plan

U.S. Bureau of Labor Statistics, Occupational Outlook Handbook https://www.bls.gov/ooh/construction-and-extraction/plumbers-pipefitters-and-steamfitters.htm#tab-6

Internal Revenue Service, Independent Contractor Defined https://www.irs.gov/businesses/small-businesses-self-employed/independent-contractor-defined

Boris Groysberg et al., The Leader's Guide to Corporate Culture

https://hbr.org/2018/01/the-leaders-guide-to-corporate-culture

Anja Smith, How to Grow a Service Business (Advice for Trades like Plumbing, HVAC, Electrical) https://medium.com/@anja.nicole.smith/tradebiz-toolbox-service-growth-cfd66ac04b93

HubSpot, What is Customer Relationship Management? https://www.hubspot.com/products/crm/what-is

Mike Cappel, 6 Ways to Measure Small Business Success https://www.forbes.com/sites/mikekappel/2017/03/08/6-ways-to-measure-small-business-success/?sh=7fe1042c18f4